Get Real Results Fast With Our Rent 2 Rent 'Complete Business in a Box'
The legendary Manual that everyone wants to get their hands on!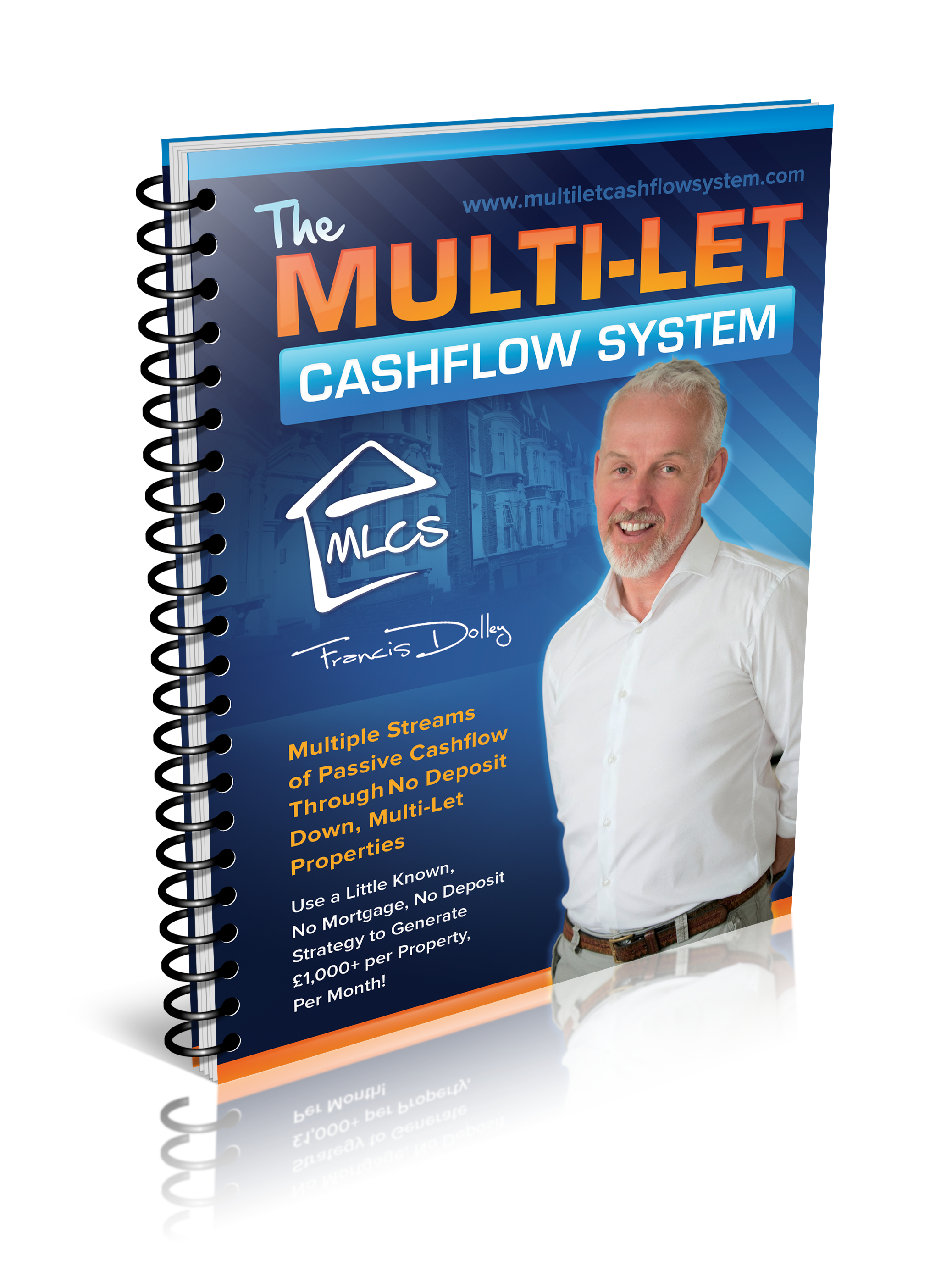 The thought of starting and running a Rent 2 Rent business can be daunting. How do you know whose advice you can trust? How do you recognise a good deal from a bad deal, how can you make sure there's a strong demand for rooms, and how do you protect yourself with a good watertight and legally compliant contract?
Often referred to as the 'Rent 2 Rent Bible' or a 'Complete Business in a Box', this 260 page, full colour, high quality Rent 2 Rent manual, will answer all these questions for you and much more.
It contains all the interactive information you'll need to launch your Rent 2 Rent business and build a consistent monthly income. It'll show you step by step how to reach financial independence and quit the day job (if that's what you want to do). If you follow the proven step by step systems and processes, this manual has the ability to literally change your life
Written by Francis and Emily over the course of 12 months, the manual includes everything you'll need to kick-start your Rent 2 Rent business, including the all-important but finer details that you might well miss if you try this alone … and mistakes in this business can prove to be extremely costly.
The manual has been designed with great care and attention to detail, because frankly, when we saw the poor quality of the manuals being offered by other training companies, we were pretty appalled. We knew that our customers deserved much better and we set about making sure that they got it. Just in case you're wondering, it's printed on good quality paper and is in full colour.
Many people have described the MLCS Manual as 'the best manual ever' and it continues to grow and develop in an organic way, as we regularly refresh the information with cutting-edge updates.
Included with the manual
The specialist Guaranteed Rent Agreement we use to secure us deals with agents and property owners (it's cost us more than £3,000 in legal fees to date).
The specialist AST that we use with our end tenants.
Plus another ten essential documents to get you started.
If you're concerned about the contract, don't be. Whereas most Rent 2 Rent contracts have been adopted from a general management contract, our very specific contract has been scrutinised by 100's of Solicitors and is, without a doubt, the best Rent 2 Rent contract in the UK market today.
Maybe you're not sure how to approach agents, or how to make your offer appealing to landlords? Or maybe you're worried about offering too much or spending too much on the Refurb? Our manual will give you all the information you need to set up and run a streamlined, and high cash-flowing business.
What does it cost to set up a deal and who pays for what? What is a fair sourcing fee and when are you being overcharged? What are the common problems you might come across and how do you overcome them? Your complete 'Business in Box' answers all these questions and many, many more. Our Graduates constantly refer back to their manuals as the one resource that they just cannot do without, as many of them have testified.
Rent 2 Rent has the potential to replace your salary in 12 months, with many students creating £5k and £12k NET cash-flows within that time-frame. Your manual even contains a 4-week action plan and a quick-start checklist to help you get started with turbo-charging your income straight away.
Once an operations manual has been purchased, we cannot, under any circumstances, offer any refunds.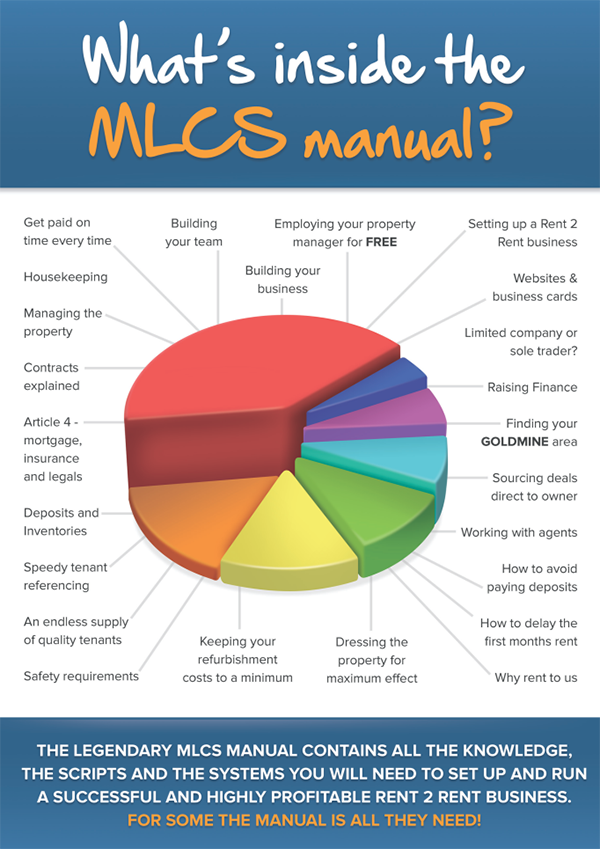 To say the MLCS Manual is worth 10X's its cost is a vast under-exaggeration, as less than one month's profit from just one average deal, would be more than enough to pay for it, and it's guaranteed to go on paying you back forever, as members of the MLCS family confirm below.
Therefore, if you really, really can't make it to an event just yet (and we really suggest you DO attend) but still want to get started with this amazing strategy, you can purchase this manual on its own. Note: You assume the responsibility for your purchase, and orders are non-refundable and non-transferable.
If you order it today, we'll send it to you by next-day special delivery so you can get started immediately on building your income, your business and your future. Just click the 'Add to Basket' button below.
Cost £297 + £20 P&P for next day recorded delivery


"After managing two Rent 2 Rent properties for the past three years, I finally decided that I'd like to make a real business of R2R. I'd already attended the MLCS Discovery Day and was really impressed, so it made sense to buy the MLCS manual.
It was without a doubt the best decision I've made in a long time! The manual is packed with really useful information, tips and templates and I now feel confident that I can build a great business. I've already spoken to a couple of local estate agents and my plan is to add one property per month to my portfolio. Thank you Francis and Emily for such a comprehensive manual which I'll continue to refer to whilst I'm growing my business." – Amanda Evans

"It is in simple language that we can all understand and bite-size chapters that I regularly refer back to. This is a great cashflow strategy, it is easy to replicate and I am now looking for more properties to add to the portfolio" – Fiona Sweeney

"Starting any business is hard and the thought of doing on your own can be a big barrier! The MLCS Manual really simplified the whole system. Having the experience of someone who has already done it and produced an in-depth road map of the whole process, is worth itself 1,000 times over! For me, this blueprint really has given me the confidence to push forward and take action. A great resource at a great price, thank you." – Paul Phillip Thomas

"The manual is great, easy to read and essential in motivating and answering so many questions. We always keep it by our side to check up on what to do next, or how to tackle the different issues that crop up. Thanks team, we'd go horribly wrong without it!" – Anna-Marie & Hebbe

"The MLCS course is so jam packed with information, that the manual is an absolute godsend! I now know why it is called 'The R2R bible'! It sits on my desk, and has helped me through the whole process from setting up my business, finding properties, to furnishing and finding tenants. It has so many helpful hints and tips and I simply don't know what I would have done without it!" – Suz Mullen

"Having started my journey on R2R, I refer to the Manual (bible), frequently as every corner and every turn is a new beginning for me and without all this useful and in-depth information I would not be able to do my new business any justice. For me the manual is just priceless, and the support that the MLCS group give and share is amazing, I am truly grateful for being part of it. :)" – Sue Randall

"The MLCS manual is a very concise easy to read document, it is crammed with tips, techniques, resources and walks you through R2R with baby steps. Over the years I have been on a number of training courses both in property and in the corporate world and I would say this is the best training manual that I have ever had the pleasure to use. When I first got my hands on the manual I read it cover to cover and although I would class myself as a well seasoned property investor I still found many gems that I have implemented. The manual must have taken hundreds of hours to write giving the reader the best ways to do things without going through the personal trial an error." – Rob Walters

"The MLCS Manual is fantastic. It is very simple to understand. I loved the fact that there were different templates provided. I.e. How to write tenant applications, examples of contracts and much much more! This certainly makes life much easier. I cannot wait to book.myself onto the course. Thank you Francis and Emily for creating this fantastic manual." – Fahima Janath

"I have gone through the MLCS manual in detail and I must congratulate MLCS on what is such a well thought through, well written, brilliantly illustrated and presented masterpiece! It is easy to follow, highly informative and its light hearted approach makes it a joy to read! It will be very helpful as I move ahead. Well done and many thanks." – James McLeod

"I got the manual a little before my training day, just from reading it I arranged 4 viewings and secured 2 deals with a cashflow of £2,200pm. One of them on a 10 year let with a 10 year purchase option. I have now booked on to the Agents Day course to understand why I didn't get the other 2 deals. Thank you, Thank you, Thank you." – Stephen Gebbie

Your Free Download
We have a gift for you, just for being here.
Every multi-let MUST have some house rules, and you can waste a LOAD of time trying to figure out what yours should say. Plus if you make them too boring, the chances are that they'll be dumped straight into the bin anyway!
These house rules are bright, colourful, fun and generic, so they'll suit most multi-lets. Our local HMO officer was so impressed that she adopted them, and sent them out to all our local landlords .
Our 'Guide to Living' (Tenants House Rules) was approved by our HMO officer and will save you many hours of work! Its our gift to you.
We hate spam and will never share your details