Employing Your Property Manager
How to Effectively Leverage Your Time and Claim Your Life Back!!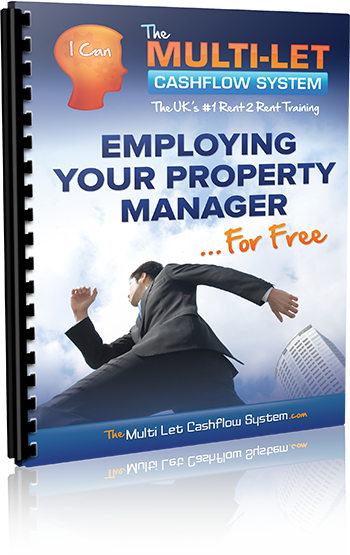 The 2nd MLCS Manual – Employing Your Property Manager contains each and every step we took to find, interview, employ and hand parts of the operation over to Will – our property manager. You need to be at least 'thinking' about employing a property manager from day one!
We have detailed EVERYTHING – Finding the right person, where to advertise, the adverts, interview venue, conducting the interview, candidate selection, employment criteria, the hiring process, job role, in-house training, pay structure, holidays, safeguarding against poaching and much more.
This is an essential part of your property journey and one that everyone should (must) take if you are to grow your business and free up your time. We waited FAR too long before we employed Will!
We also spell out in detail how we structured Will's employment so that it didn't cost us anything in hard cash, and in actual fact he earns us more money!
We asked Will to document 'A day in the life of a property manager'. There is also a link to a top secret page on the MLCS website, where you will find the employment contract we used and other valuable documents – so that you don't need to search them out and type them all up yourself!
Full Time Employment Contract
Property Manager Manual Template
Self-Employed Heads of Terms
HMRC – First Time Employer Guidelines
This was a complete game changer for us and will be for you as well!
*Also includes a link to downloadable contracts and essential documents*


"I have employed staff before but not in the world of property, and found this manual extremely useful, practical and easy to read. My property manager starts on Saturday and thanks to the hard work of Francis, Emily and Will, I have had a stress-free time finding him, interviewing, arranging the contract and planning his training and induction. Well worth the investment, thanks again!" – Steve Dorrans

"If you're at all unsure about how to employ your first property manager, following this straightforward step by step guide will make it a cinch! It's a really clear, concise, easy to understand and takes all the worry out of the process. I can heartily recommend it to anyone who is thinking about doing it! I have just hired my first Property Manager and he's doing a great job!" – Charlie Reay-Smith

"As is always the case, the MLCS team have come up with another excellent, simple step by step guide. I love it! EYPM is the quickest way to get out the DIY trap and to free your time & energy. This manual will get you from being a busy property manager, to owning a property business in easy to follow steps. Just going through the process now, Simples!!!" – Rob Pursey

"The Employing your Property Manager Manual is brilliant! I have been conducting telephone screening interviews this morning and the suggested questions were really helpful. I will use the scenario questions/tenant profile game for the 2nd stage, one to one interviews. All encompassing and outstanding!" – Linda Attram

"Since leaving my JOB 18 months ago I have been building my portfolio – we are now at 35 rooms – I was doing everything myself and I was dropping many balls!
So I bought Employing Your Property Manager, closely followed the step by step guide and appointed a property manager ….. just before I went on a two week holiday! I wasn't sure if I would have a business standing when I came back, however, I had nothing to worry about as they have proved very capable and efficient!
So at what cost? In return for their service I have given then a car (leased for £200 pcm!) plus a room filling bonus. In the past, the real cost to me had been the deals I lost because I was too busy on the day to day, plus the stress and worry that my business would completely stop in my absence. I can now embark on the next stage of property journey, build an even greater team, focus on income generating tasks, allow myself a week's break every 6 weeks and invest in more personal development. My only regret is not doing it sooner!
Thank you MLCS team for another brilliant manual." – Hitesh Mistry