52 Multi-Let Tips
52 Easy Ways to Save Money and Streamline Your Business!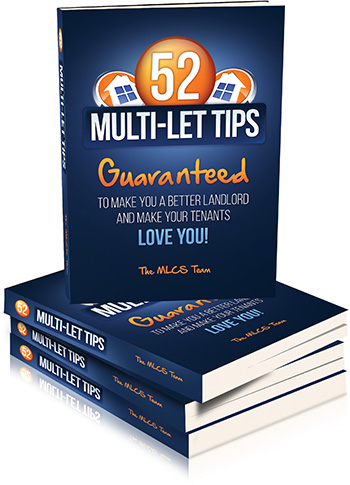 Paying close attention to all those little things will ensure that your property business is a smooth, slick and stress-free operation . . . . as long as you know what those little things are!!
We spoke to literally 100's of landlords all over the UK to collect 52 absolute diamond bits of information that are guaranteed to make you 3 x's more efficient and at least 3 x's better a landlord or landlady than you are today!
This book will help you to streamline your property business to get it running on Auto-Pilot while you get back to doing what you like doing best.
If you implement just one of these Brilliant Tips each and every week and integrate them into your property empire, you will soon be the envy of every other landlord in your locality!
Keeping an eye on your yields and ROI's is of course essential, but we must always remember that property is a people business and the needs of our customers must come first and foremost. We have found that by applying these gems into our businesses we have given absolutely EVERYTHING a lift! There is a really prevalent feel-good factor at every level of the business.
It really doesn't take much to transform a house into a warm, cosy and welcoming home that everyone can be proud of, and we have discovered the knock-on effect to be that your tenants will totally love you!!


My Favourite Tip

"After much debate with myself, I must say Tip #19 is tops. Dealing with late night calls when students have lost their keys has resulted in a load of frustration. This is such a simple but all encompassing solution!" – Jayne Owen. YPN editor

"Top Tip #7 about Standing Orders is such an obvious system once you know it, and it will save me so much time going forward." – Mike Woods

"My favourite is #9. Furnishing a House for Next to Nothing , as it will save me a fortune over the years." – Asya Barskaya

"My favourite – Tip # 26, Change-Over Day – all about no voids. I love the military precision with which Francis and his team run the changeover day so ensure there are no voids at all!" – Susannah Cole

"#35. If it Moves, Systemise it! – this is most definitely my favourite and makes you examine everything." – Jason Volkes

"#47. 1737 was a very good year is an eye-opener! I have never heard of that one – it's brilliant little motivator that will save you a lot of grief if and when needed." – Rob Walters

"They are all really brilliant but the most practical one for me has been #1 – this will transform my houses!" – Richard Hodgson

"I actually have 3 that are all of equal brilliance!!
#46. How to rent that small room, #39 Getting engaged, #26 Change-over day" – Hanna Hunter

"#5 The Brilliant Viewings Tip …I would never have thought of this and it is totally GUARANTEED to save LOADS of time and increase profits!" – Tina Boulton

"I love Tip #33 – How to create a professional and stylish video's for your adverts in minutes. Cool." – Alex Russel

"My favourite is #20 Employing a Property Manager for free. I'm looking into this right now!!!" – Steffie Martin

"It's so hard to choose as there's so many great ones. But if I had to choose then it would be #46 as this will stop money from leaking out of my business." – Sabrina Amofa

"I love #32, a really smart idea! This will ensure a constant supply of good quality tradesmen. A brilliant little book of top property tips. Thank you Francis and the team!" – Anna-Marie Adjei

"My fav is #28 – Negotiate everything! Lots of ideas I wouldn't have thought of. We are in business to make a profit after all." – Patrick Nivelles

"Tip #19 has saved me hours upon hours of my own time, but also saved the business £££'s by not having to pay the staff to mess around unnecessarily. Everyone, including the tenants, are calmer and happier!" – Katrina Jones