Endless Tenants
How to Eliminate Voids from Your Life Once and For All!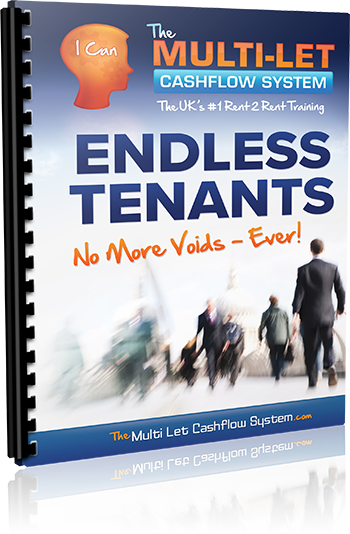 Imagine not having an empty room in any of your properties, even for an hour, for over 40 months… and counting.
Well that's exactly what we have achieved.
How have we done it?
Well, we can tell you precisely how, as we've bottled it all up and put every proven tactic, trick and strategy into our brilliant full colour and high quality 52-page manual.

Avoid Voids, and Fill Every Room
"How can I keep my rental properties full AT ALL TIMES?"
That's the number one question every landlord and property agent wants answered.
The general consensus seems to be that 5%, 10% or more, rental voids are OK. We found this totally unacceptable and decided to do something about it. Plus, we all know that an empty room equals less 'nice stuff' for us, and a probably a whole lot more stress.
So we made the Bold Decision to Completely Eradicate Voids… Forever! After we had achieved that goal, we created the 'Endless Tenants' manual to share with members of our private community exactly how we did it.
We had intended on keeping this cutting-edge and classified blueprint solely for our community, but decided it was far too important not to share with the wider World.
So What's in the Endless Tenants Manual?
Inside this manual is every tactic, every trick, every shenanigan, and even some of our hush hush covert top secrets, plus all the 'outside the box' thinking we did to make sure our rental properties are forever running at 100% capacity.
There really is no more need to be one of those people who stick an advert on Spareroom, cross their fingers and hope for the best, because Endless Tenants is loaded with an absolute GOLDMINE of ideas and information you can instantly and easily implement to make sure you also eliminate rental voids.
We painstakingly tried and tested all kinds of theories, even the hugely successful and somewhat wacky 'French Dancers and Trainee Firemen' strategy. In fact, everything that worked and helped us fill our rooms has made it into the manual.
There's also the essential 14 killer questions you MUST ask to ensure you get the perfect tenant every time'. Plus the equally indispensible '9 things you should always do BEFORE every viewing! We didn't just want 'tenants', we wanted the BEST tenants!
If you have ever suffered from empty rooms for week after long week, if you can't understand why it's harder to let now, if you're tearing your hair out wondering if that room will EVER let… or if you're getting lots of viewings, but no one's taking and you can't figure out whats's changed, well read on as we might have the answer!
Your Path To 100% Full Rental Properties Starts Here
Soon you'll be living by the 'Endless Tenants' rules. It meticulously spells out every tactic, every strategy and every trick you can use to ensure that you are FOREVER at 100% capacity. Here are just some of the ways the 'Endless Tenants' manual will benefit you:
It will enormously boost your cashflow
You'll attract better quality tenants who stay longer
You'll do less viewings, therefore freeing up your valuable time
Plus you'll know EXACTLY what to do, to consistently stay at full capacity!
With the extra spare time you'll gain, you can create even better systems which will then free up EVEN MORE TIME. So it's a virtuous circle that will only keep getting better!
Imagine being able to fill rooms on auto-pilot. Is that worth £79?

Why buy it today? At that price, if the manual helps you fill just one average priced room for five days, it will have already paid for itself.
Consider the alternative for a moment.
But trust us, it will do so much more, as some of our delighted customers discovered:

"After reading and applying many of the lessons in ET our voids have vastly reduced and our stress levels with it! We have become much more systematic about managing our rooms and our tenants are happier too! I reckon this has added thousands of pounds to our annual profitability. Some brilliant learnings are contained in this unassuming yet powerful document in which Francis and Emily share their learning about how to ensure your rooms are full ALL THE TIME. Buy it and see your results improve massively!" – Wendy Whittaker

"Got the endless tenants Manual last night, read it this morning and I reckon it will pay for its self X10 by the end of the week. Complete new and cutting edge content – It contains every tenant finding strategy you will ever need! Great stuff, well done Francis and Will." – Walter Bull

"As soon as I heard there was a new manual called 'Endless Tenants', I made sure I grabbed one of the very first copies as I didn't want to miss out. I now have two excellent manuals that Francis and his team have produced – both easy to read and simple to implement. If you do Rent 2 Rent or invest in any type of HMO, you MUST buy this manual! You'll never have a void in your HMO ever again!!" – Vicki Vokes

"I have used the ET loads and can honestly say its invaluable! Everything you need to keep your rooms full is there and much more. All in plain English so its easy to put all the action points into practice without being over the top. It has been tried and tested by all the MLCS guys and it clearly works! Just buy it!" – Sue Randall

"Wow this is worth it's weight in Gold! Simple, pragmatic ideas, that, when followed means you'll have no more empty rooms – as I have already found out!! A must read if you are losing £££ with empty rooms." – Rich King