Mayhem, Murder and Multi-Lets
What they don't teach you at property bootcamps that you really MUST know!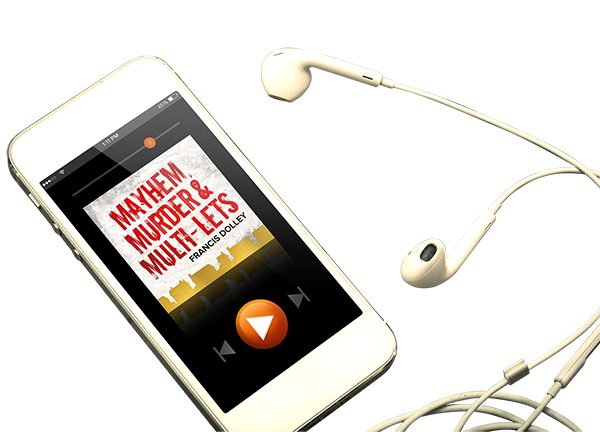 'Mayhem, Murder & Multi-Lets' is a book like no other! As in all things in life, property investing has a good side and a not so good side. Francis Dolley holds nothing back in this 'warts-and-all' account of his baptism of fire into property investing including how he dealt with disappearing tenants, sex offenders, hookers, drug addicts, physical attacks, raving alcoholics and psychotic agents!
Eventually he decided it was time to take control of his life and accept responsibility for what was happening, so got to work on a simple yet hugely effective 'process' that enabled him and his family to become financially independent in just 6 short months of implementing it!
He literally stumbled across the system that was being used by the secret underground world of property investors for many years, and they were not too pleased when Francis and his daughter Emily blew the whole thing wide open at the biggest property conference in the UK, on a Wembley Stadium stage in front of an audience of a 1,000!

LEARN THE MULTI-LET CASHFLOW SYSTEM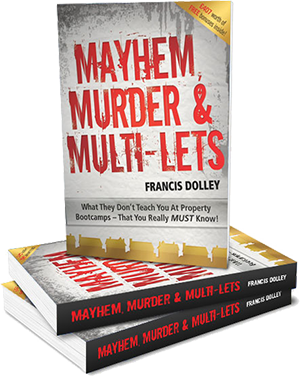 How to deal with troublesome tenants and stay completely calm
How to leverage your time to quadruple your productivity
The 95% passive system that can give you back your freedom
Why Multi-Lets are the future
How to beat analysis paralyse and create strategic clarity
Multiple time and money saving tips form a seasoned investor
During his 20 years as a multi-let property investor, Francis has dealt with mnay unexpected challenges with tenants – including a murder. While this would have sent most people spiralling over the edge, his many brilliant systems and sense of humour have helped him to stay sane!

If you would prefer a hardcopy or digital copy of the book, please click here.