Refurb 101
How To Get Your Refurbs Done Faster, Better And Cheaper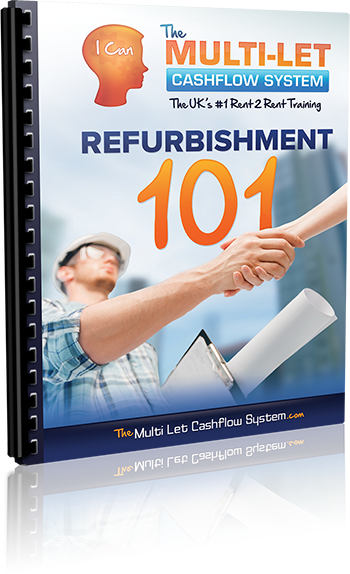 Let's be honest… Refurbishments can go either way! You might find some brilliant tradesmen, who turn up on time every day, who work hard, who save you tons of money, who finish on time and who produce an amazing job.
Or…
You fish around for someone off the internet, they're late on the first day, they're totally disorganised, their work is pretty rough, they demand money upfront and after a painful few weeks… you sack them!
Refurb projects can be pure Heaven or can almost literally feel like Hell, and in the latter case you'll more than likely be cleaning up the mess and suffering with the repercussions for many months after the job has officially been 'completed'… and this is just ONE aspect of doing a Refurb.
This cost of getting Refurbishments wrong can be astronomically expensive and humongously stressful … but the good news is that Refurbishment 101 has been lovingly and carefully crafted, to ensure that you will always run well organised and stress-free projects from this day forward.


"Being a property novice, I'm very happy to say I have learnt LOTS from this manual; from understanding the sequence of a refurbishment, to building a successful team. In fact, the more I read, the more I realised Refurb 101 is an absolute gem! It's making me excited, because I feel I can now see more clearly how to get the best results, and with much less stress.
Francis, Emily and the MLCS team continue to set the bar high, and to help those they teach to become the best in the industry. I can't wait to implement what has been taught in this book, and to see it successfully realised in my future projects. I am very very grateful this book found me. Plus I appreciated the humorous insights!" – Seyram Amo
Guaranteed to Save You Money
We have been doing Refurbs for 20+ years, with budgets ranging from a few hundred pounds to a quarter of a million pound project… and we have learnt a LOT along the way… most of it in the school of hard knocks! Within this high quality, full colour manual is the foolproof system you can use to find consistently good tradesman, make them a part of your long term team and get them working with your best interest at heart. You might say that we have created the perfect shortcut for you. There really is no need to take the long road as we have been there, done that, and are very happy to share EVERYTHING we know with you.
Including…
Understanding your own skill set
The essential tradesman document
Finding your gold-dust handyman
Cost vs reliability
Pricing the work and getting quotes
Spotting structural faults
Affordable project software (Podio)
Creating the specification
Payment schedule
Sequence of work
The cookie cutter approach
Saving money on utilities
Laminate flooring or not?
Installing stud walls
Pre-empting damp problems
Maintaining a central heating system
Bathroom lighting regulations
Fire alarm systems
Fire doors and closers
The psychology of colour
Feature walls and design
Quick kerb appeal
Finishing touches
Snagging and final payments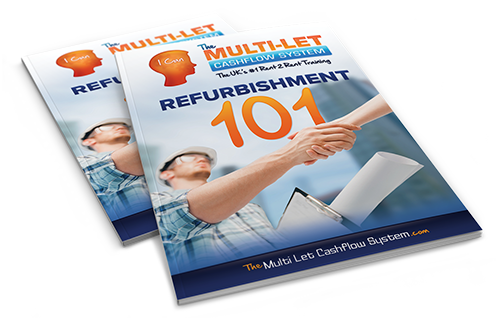 "As a professional builder with 35 years experience, I strongly encourage you to invest in the Refurbishment 101 Manual before you start your next Refurb! I can tell you that the manual covers everything you need to be aware of, and gives you a clear and concise, step by step plan to get that refurbishment completed. It's an essential resource, gives great attention to detail and will definitely empower you! Confidence will always play a key role in your success and this manual is give you exactly that." – Paul Vella
Guaranteed to Save You Time
Also included are sections on minimum room sizes, electrical surveys and upgrades, garage conversions, the best material suppliers, fitting internal locks, under the stairs WCs, internal floor types, tiling walls and floors, timber stud walls and how you can quickly and easily check the water pressure. Plus chapters on permitted development, building regulations, the essential LACoRS guidelines and the essential pedantic day that will ensure the finished article remains in perfect condition.
We also detail how we prepare for those quick and light Refurbs and what you need to get in place to ensure bigger projects run from start to finish without so much as a hiccup. The manual is a goldmine of information that will give you clarity, confidence and those all important Refurbishment fundamentals.
You Also Get These Valuable Downloadable Resources

Property Viewing Sheet

Comprehensive Snagging Checklist

Schedule of Works

Basic Schedule of Works

Sequence of Work

Furnishing and Finishing Touches

Cleaning Checklist

Heads of Terms + Negotiation Tips

Amendments Template

Bathroom Lighting Zones

Gantt Chart Template

Licensing Upgrade Costs

Build Materials Checklist

Method Statement Sample

LACoRS Fire Safety Guidance

Quick Faults Identification
These are FREE Downloads you will gain access to the second you get your copy of Refurbishment 101
This is just a small portion of what's covered in the manual; its full of the finer details and we're sure you'll agree that it's ALL about the detail. This information is absolutely GUARANTEED to get your job done faster, cheaper and more efficiently.
People have been struggling and losing money in this area for too long as there's no info-packed and really practical guide out there. They're either too technical or too wishy-washy … Refurbishment 101 will fix that problem.


"Being a total DIY-phobe, I must confess to not being overly excited about the thought of a Refurb Manual, but I can honestly say that 'Refurbishment 101' is a real breath of fresh air! I found that I not only totally understood it, but even started highlighting portions! I am now a convert and would wholeheartedly recommend it to ANYONE considering ANY level of refurbishment!" – Eunice Simpson

"Another extremely useful MLCS manual: Thorough, clear, concise, comprehensive, idiot proof… and quirky". Brilliant!" – Barbara Hosker

"Refurbishment 101 is absolutely packed full of high quality content from beginning to end and I really cannot recommend it highly enough! I haven't got that much experience with refurbishments, and I could see other people who did have the experience, handling this part of their business so much more efficiently and cheaper than I could; and with far less stress! The information here is SO good, it's literally given me the clarity I needed to be able to sharpen this side of my business, and finally get rid of the stress." – Kelly Grace

"As an experienced and qualified Plumber and Electrician, I found Refurbishment 101 manual to be well worth the investment. I can assure you that whether you are inexperienced or an experienced renovator taking on larger projects, it will fill you with the confidence you need to show your team you really know your onions! From a professional point of view, I can say from experience there are two things that determine whether or not a good tradesman will want to work with you again, and the MLCS team cover them both in detail. Top marks!" – Craig Richards

"We've just refurbished our first property and the Refurbishment 101 has been absolutely invaluable: from the ball-park figures for all major works, right through to the insider tips and tricks of the trade to make sure you get things done quicker, easier and simpler. Thank you for another practicable and extremely useful manual." – Neil Spenser, Spenser Lettings

"Absolutely delighted that higgihaus features in the MLCS Refurbishment 101 manual. It's a cracking read and if you're doing any type of refurb, utterly indispensable. I think my favourite pages are 84-87… but then I might be slightly biased." – Luke and Delyth Spikes

"Together with our business partners and investors, we've managed over 20 refurbishment projects, from bathroom refits to large extensions and loft conversions; and transformed 6 family homes into large Houses of Multiple Occupancy. If only we'd had Refurb 101 five years ago, it would've saved us SO much time and So much money, let alone many headaches. Every refurbishment has challenges and complications, and I would recommend that anyone who's thinking of undertaking ANY size refurbishment, follow this manual diligently, every time, without fail! The insider knowledge, tips, procedures and downloadable checklists contained in Refurbishment 101 are testament to Francis' wealth of experience as a builder, property investor, and multiple business owner. Don't hesitate, just buy it!" – Lee & Gervaise Cerio, Inspiration Property Ventures